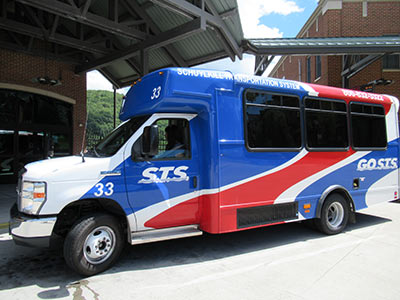 Recruitment of qualified job candidates is an ongoing process. Schuylkill Transportation System is an equal opportunity employer and prohibits discrimination in all its functions.
Please click here for administration employment application.
Please click here for driver/maintenance mechanic application
Fixed Route Bus Driver
Brief Summary:  This position involves skilled work driving a large passenger bus accommodating 35 to 55 passengers.  Work involves the transporting of passengers over specified routes according to a time schedule.  Work is performed under the supervision of an Operations & Safety superior.  Assignments are stable in nature and are carried out in accordance with established work instructions and applicable motor vehicle laws and regulations.
Special Mandatory Requirements: 
Possession of a valid Pennsylvania Commercial Driver's License with air brake certification and passenger endorsement.  If requested by the employer must attend school bus training to obtain a Class 4 license in a time period determined by the employer.
All drivers considered for employment must be at least 25 years of age; (3) years minimum U.S. License (any class) (2) years as Class B license and present a motor vehicle record that is acceptable under NIIC qualification standards.
Communicate  with management immediately regarding any license revocation, off-duty traffic violations, accidents, and moving violations.
Must be able to meet the physical requirements to obtain & maintain a DOT physical card.
This is a safety sensitive function for STS subject to DOT drug and alcohol testing requirements.
Communicate with management immediately regarding changes in medication.
Driver applications are available to print from our website at WWW.GO-STS.COM
Call 570-429-2701 to request a driver application be mailed to you or you can stop in at the address listed below to pick one up between 8am -3:30pm.
Mail Application to:
STS
252 Industrial Park Road
Saint Clair PA, 17970
STS is an equal employment opportunity employer
Part-Time Shared Ride Van Drivers
Must have a valid PA driver's license
All drivers considered for, employment must be 25 years of age
Must have (3) years US driving with at least (2) years of a Class C license
Must have an acceptable motor vehicle record
Must be able to obtain and maintain a DOT physical card
Safety Sensitive position subject to FTA CFR 49 Drug & Alcohol Testing
Driver applications are available to print from our website at WWW.GO-STS.COM
Mail Application to: 252 Industrial Park Road
Saint: Clair PA, 17970
STS is an equal employment opportunity employer