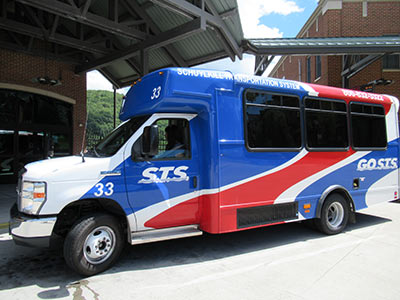 Recruitment of qualified job candidates is an ongoing process. Schuylkill Transportation System is an equal opportunity employer and prohibits discrimination in all its functions.
Please click here for administration employment application.
Please click here for driver/maintenance mechanic application
Operations Support/Customer Service Representative – (full-time)
Brief Summary:  This position supports the operation of the Fixed Route Bus and Shared Ride Programs.  Receives incoming calls using multiple phone line system.  Route calls to appropriate personnel upon request.  Relay information for all fixed route bus schedules and relay requested stop notifications.  Receives and enters shared ride van appointments on computer system.  Process all will-call appointments, cancellations, and no-shows according to established procedures for transit programs including ongoing or multiple day trips.  Schedule and coordinate transportation of clients with agency medical personnel. Create and maintain authorizations for transportation, group trips, and PWD clients.  Process Senior Applications including logging and sending requests for incomplete information to clients.  Mail all requested information in a timely manner.  Provide administrative support to executive/operational/business/maintenance level management.  This includes data entry, document preparation and document retrieval of any kind.
Administrative applications are available to print from our website at WWW.GO-STS.COM
Or call 570-429-2701 to request an administrative application be mailed to you. 
Mail Application to:
STS
252 Industrial Park Road
Saint Clair PA, 17970
STS is an equal employment opportunity employer
---
Part-Time Shared Ride Van Drivers
Must have a valid PA driver's license
All drivers considered for, employment must be 25 years of age
Must have (3) years US driving with at least (2) years of a Class C license
Must have an acceptable motor vehicle record
Must be able to obtain and maintain a DOT physical card
Safety Sensitive position subject to FTA CFR 49 Drug & Alcohol Testing
Driver applications are available to print from our website at WWW.GO-STS.COM
Mail Application to: 252 Industrial Park Road
Saint: Clair PA, 17970
STS is an equal employment opportunity employer