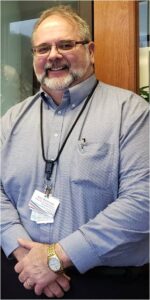 STS is excited to announce the Schuylkill County Transportation Authority Board of Directors have decided to promote Mr. Gary Martinaitis as our new Executive Director! His first day in his new position will be August 1, 2022. Gary will be transitioning into his new position working with our current Executive Director David Bekisz until his retirement in September.
In his 17 plus years of service, Gary has accomplished great things at STS. He started his STS career as a Dispatcher/Money Counter. He later joined the STS Operations & Safety department as the Operations Service Coordinator. In 2013 he was promoted to the position of Operations and Safety Supervisor. And, in 2014 he was promoted to Director of Operations and Safety. Now, Gary will be bringing his expertise to our Executive Director's position. In this position he is responsible for the comprehensive daily management of our entire public transit and shared ride systems; his duties are performed under the direction of the Board of Directors with direct reporting to the Chairman of the Schuylkill County Transportation Authority Board.
We hope you all will join us in congratulating and wishing Gary the best of luck and welcoming him to his new role!