October 2018: The Schuylkill Transportation System (STS) is proud to introduce to the public five new compressed natural gas vehicles.  The vehicles acquired by STS include two 30 ft. and three 35 ft. buses manufactured by Gillig which will be utilized on the system's ten fixed routes.  These vehicle are to replace five diesel powered buses that have meet their useful life.
Some of the many advantages of fueling vehicles with Compressed Natural Gas include reduced maintenance costs, expanding the vehicle's life cycle, and promoting a greener environment by reducing less harmful emissions into the air along with less noise pollution.  And since most natural gas consumed in the United States is produced in North America; resources should be readily available for many future generations. 
STS believes their passengers will also benefit when riding onboard a CNG vehicle since the sound level of a CNG engine is considerable more quiet than a diesel powered engine making for a more quieter and enjoyable ride.
The Schuylkill Transportation System anticipates the acquisition of four more CNG powered vehicles in 2019. 
The Schuylkill County Transportation Authority is excited to join other State transit agencies by implementing these CNG buses to serve the residents of Schuylkill County and its visitors.  Along with the advantages of CNG discussed above, these new vehicles are also equipped with many safety, reliability, comfort and IT advancements that will make them great assets for both our riders and STS staff.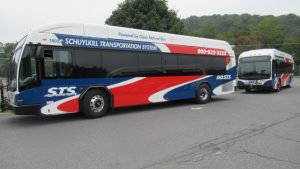 Dave Bekisz, Executive Director would like to take a moment to thank the many people and agencies that were essential for making this a reality.  Thanks to the FTA, our partners at PennDot, local government, our Board of Directors and of course all the employees at STS.